March 2022
Construction Updates: Construction of the four towers is ongoing at the Lake Wheeler Field Labs. The bases for the towers are being constructed and fiber are getting deployed. We are also finalizing our plans for the drone operations center at Lake Wheeler.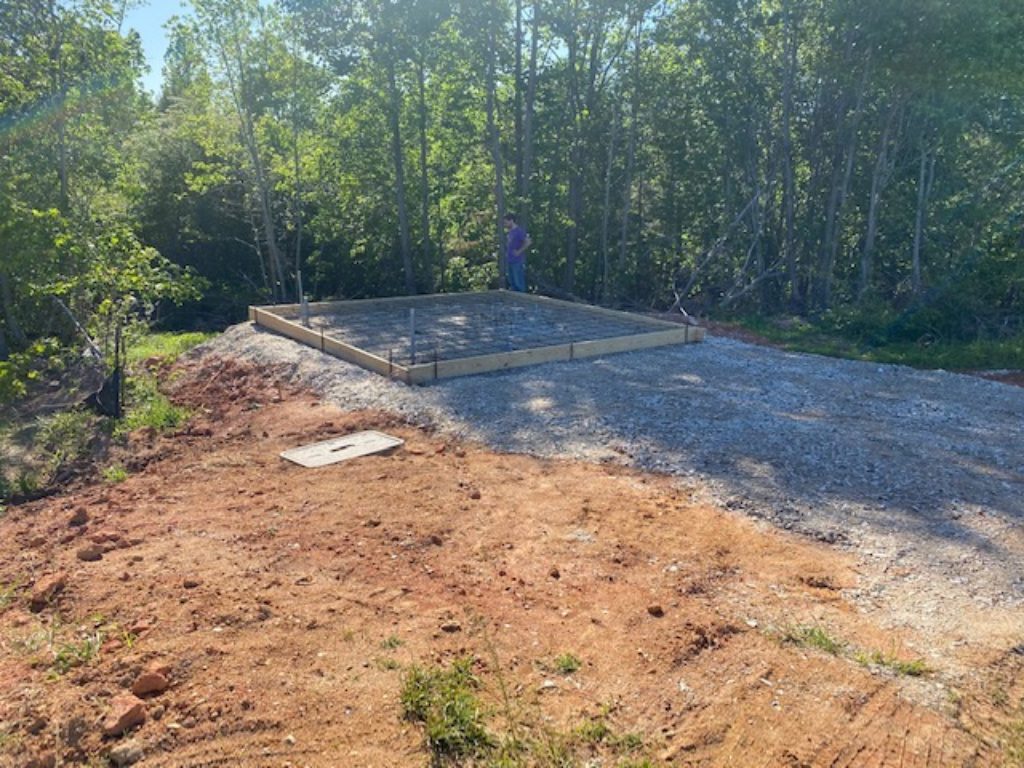 Experiment Updates: The AERPAW team has been supporting several of our users during the past month. You may find snapshots from some of the exciting work by Vasilii Semkin [1], [2] using their 60 GHz mmWave radar developed at VTT Finland for UAV/UGV detection and tracking, and by Matteo Drago [3] on MIMO communications with UAVs and UGVs in their LinkedIn profiles.
March 2022
The AERPAW team presented an overview of its platform capabilities and initial results related to national radio dynamic zones (NRDZs) during an NSF NRDZ webinar on March 16, 2022. Presentation slides are accessible here.
In March 2022, there have been several experiments by the AERPAW team to support researchers from UMass Amherst, University of Padova, University of North Texas, and NC State University. The NC State team has carried out several experiments to have air-to-ground propagation characterization with LTE signals at various drone altitudes and locations throughout the AERPAW flying field.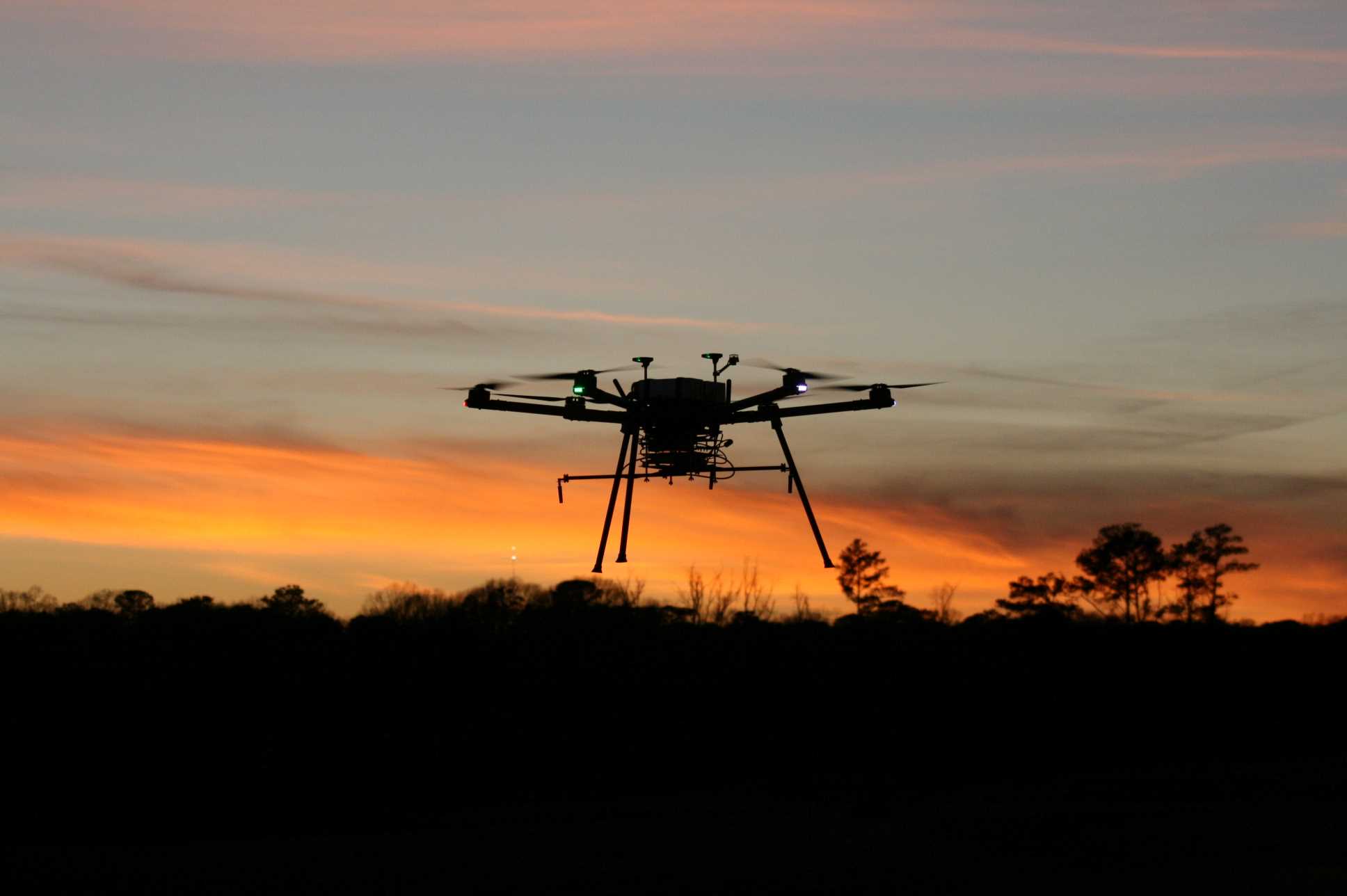 AERPAW team presented their paper titled "Experimental Study if Outdoor UAV Localization and Tracking using Passive RF Sensing" at the ACM WiNTECH Workshop in New Orleans, LA. The workshop was participated by all the four PAWR platform teams, POWDER, COSMOS, AERPAW, and ARA.
February 2022
The AERPAW team participated in the workshop on Future Networks Testbed Requirements, Challenges and Opportunities, organized and hosted by the IEEE Future Networks community. Rudra Dutta from the AERPAW team made a presentation on the AERPAW platform, with special reference to the challenges posed by a cyberphysical facility intended to be used completely remotely. The presentation videos are openly available at https://futurenetworks.ieee.org/conferences/fn-testbed-workshop.
The AERPAW team has started the process of re-fitting space, acquiring equipment, and configuring infrastructure to create the new Data-and-Compute-Store (DCS) backend for the AERPAW platform. This will enable the AERPAW DCS to move out of the temporary space and facilities that supported Phase-1, and into the more long-term facility that will support Phase-2 and beyond.
January 2022
A paper explaining the usage model of AERPAW, and tracing it to the requirements and constraints of the platform, was accepted in the IEEE INFOCOM Workshop on Computer and Networking Experimental Research using Testbeds (CNERT), organized in conjunction with Infocom 2022. The paper will be presented in May, 2022.
M. J. Mushi, H. P. Joshi, R. Dutta, I. Guvenc, M. Sichitiu, B. A. Floyd, and T. Zajkowski, "The AERPAW Experiment Workflow – Considerations for Designing Usage Models for a Computing-supported Physical-Equipment Research Platform", in Proc. IEEE INFOCOM CNERT Workshop, June 2022.
AERPAW team has been hard at work on building the new drones. Some photos from the process are included below.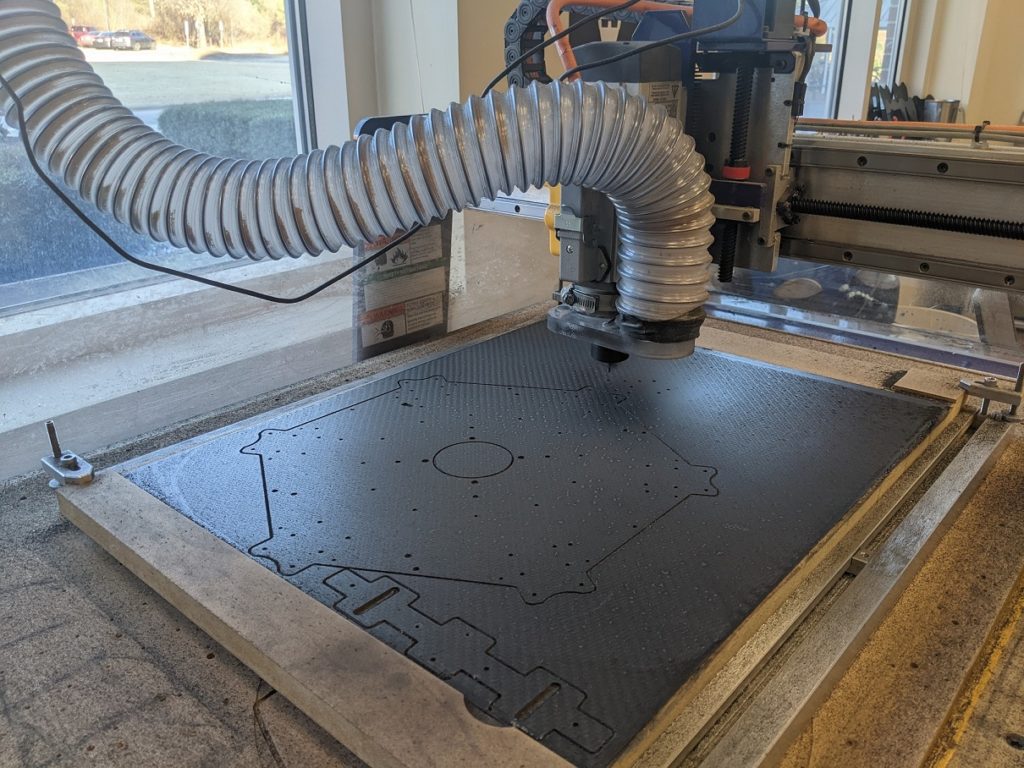 December 2021
AERPAW General Availability Updates and Experiment Examples
Following the AERPAW Fall 2021 Event on November 9-10, and the General Availability announced during the event, AERPAW has started supporting experiment requests from external users. There are presently several emulation experiments that are being supported in AERPAW's development environment. In one representative experiment, Kamesh Namuduri from the University of North Texas has been exploring drone-to-drone communications in UAV swarms. In another representative experiment, Mihail Sichitiu from the AERPAW team, supported by an NSF BWAC I/UCRC core project, is exploring multi-band communications with drones and the effect of ground reflections on link reliability (example results provided below).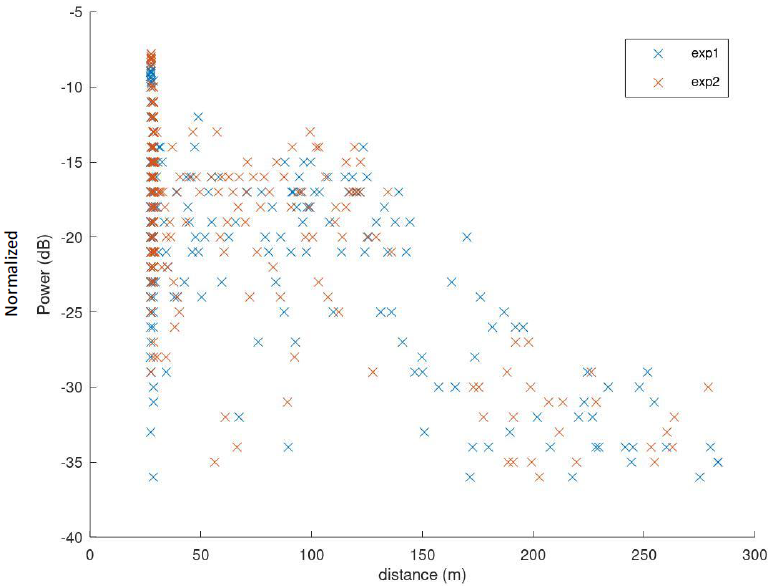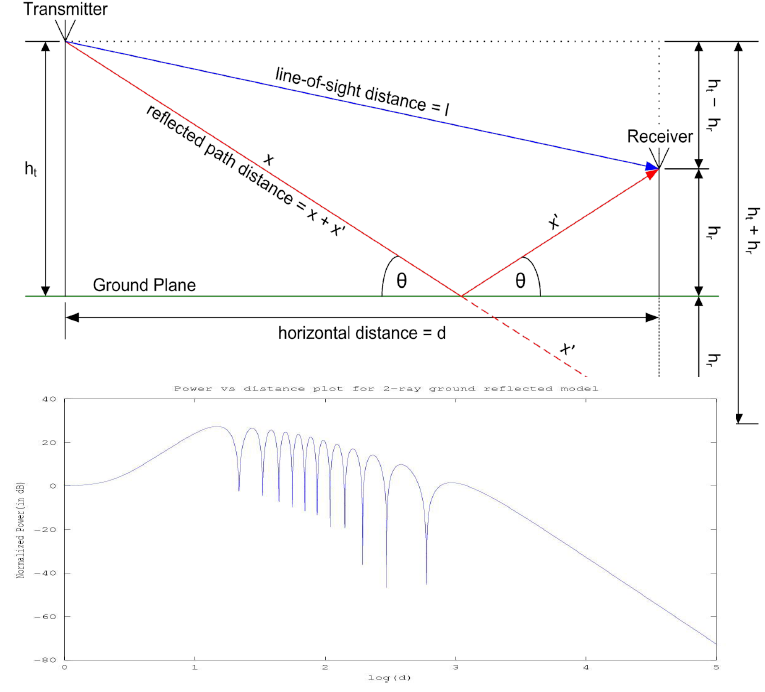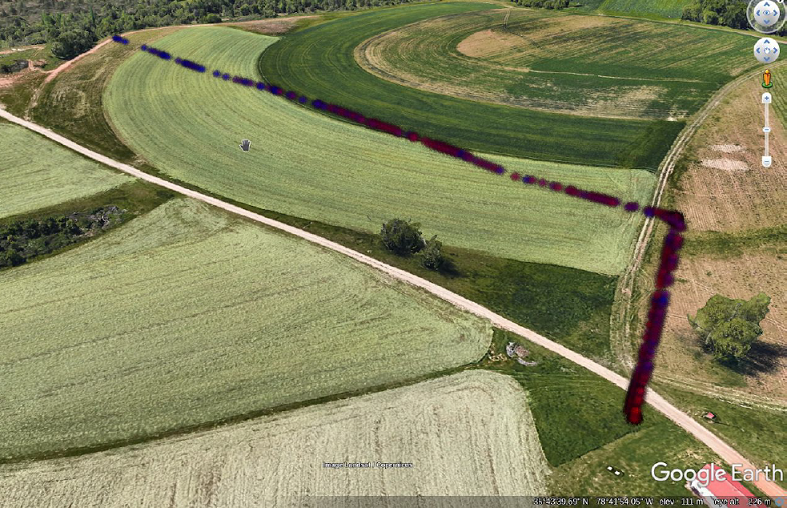 November 2021
AERPAW Alpha/Beta Testing and Fall 2021 Event
AERPAW hosted a 1.5 days on-site event on November 9-10, 2021, that included panels, training sessions, poster sessions, a tour of AERPAW facilities, and a demonstration of AERPAW drone/wireless experiments at Lake Wheeler Field Labs. For further information on the agenda, recordings from the event, and links to slides and posters, see https://aerpaw.org/aerpaw-fall-2021-event/.
As of November 9, 2021, AERPAW also announced general availability with initial platform capabilities! See here for related press releases and coverage in the media. You can also access AERPAW User Manual here and an overview of initial platform features here. AERPAW expects to move into its Phase-2 efforts starting December 2021.

October 2021
AERPAW Alpha/Beta Testing and Fall 2021 Event
AERPAW has continued to progress with its alpha testing and beta testing, towards achieving general availability in November 2021. The two videos below show example flight tests in Lake Wheeler Testbed area. These experiments have been first developed in the Development environment of AERPAW. The experiment runs a trajectory control algorithm and srsRAN LTE SISO link between the drone and the fixed node. After developing this experiment in the cloud, the AERPAW team successfully executed the same vehicle and radio software in the Testbed environment. One can notice that we had to rescue our drone from the starting rain at the end of the first flight! The overall process for this experiment and some representative results can be found at Link: OverallProcess and Experimental Results.
The AERPAW team has also continued preparation efforts for the AERPAW Fall 2021 event that will be held at the Talley Student Union. The event agenda can be found at Link: AERPAW FALL 2021 Event.
---
September 2021
AERPAW Fall 2021 Event and NRDZ Supplement
NSF AERPAW Fall 2021 Event will be held on November 9-10 at the Main Campus of North Carolina State University, Raleigh, NC. The event schedule includes a tour of the AERPAW experimentation areas, drone flight and software-defined radio experiment demo (weather conditions permitting), three-panel sessions that will discuss how AERPAW can be used for advanced wireless and drone experimentation, hands-on training sessions, poster sessions, and a 6GNC meeting. The event agenda, registration information, and logistics can be found at https://aerpaw.org/aerpaw-fall-2021-event/.
AERPAW team has received an NSF supplement to work on research and experimentation related to the future design of National Radio Dynamic Zones (NRDZs). A concept paper with views and initial results on NRDZs is to appear in IEEE ICC 2022 Workshop Proceedings.
Sung Joon Maeng, Ismail Guvenc, Mihail L. Sichitiu, Brian Floyd, Rudra Dutta, Thomas Zajkowski, Ozgur Ozdemir, and Magreth Mushi, "National Radio Dynamic Zone Concept with Autonomous Aerial and Ground Spectrum Sensors", submitted to IEEE ICC Workshops, 2022.
Some preliminary results from the paper are included below. The paper will be posted to arxiv.org for early access.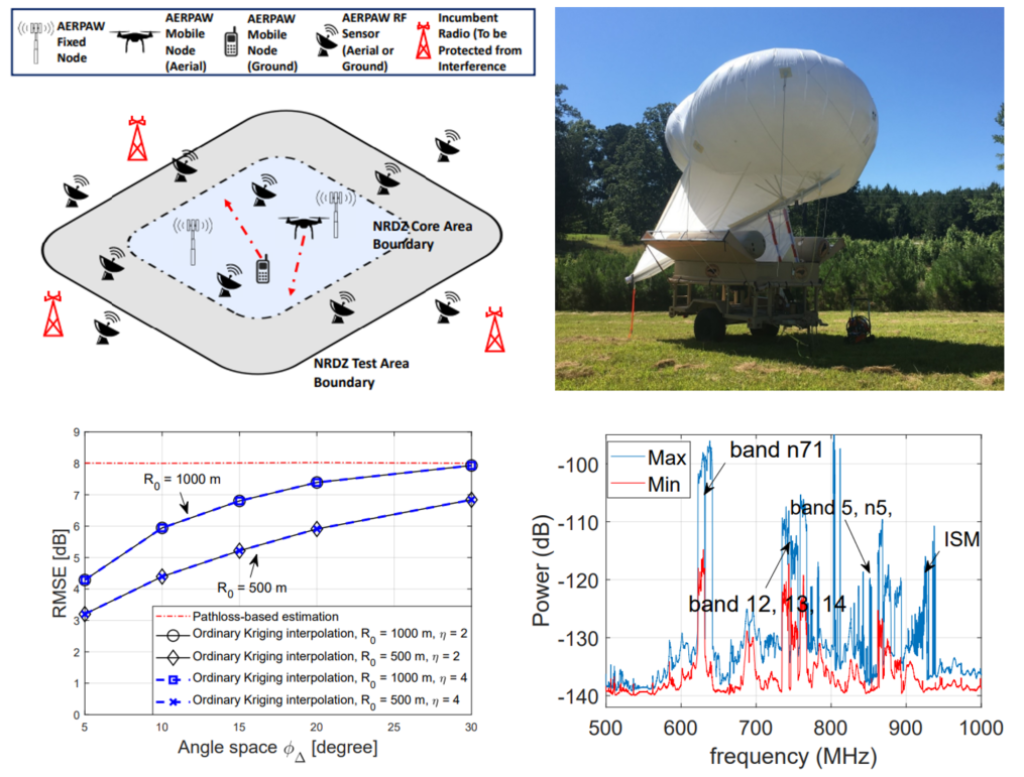 AERPAW project team has continued with alpha and beta testing of AERPAW Phase-1 features and is aiming to declare general availability with the initial platform features in November 2021.
---
August 2021
Visit from Mitsubishi Electric Innovation Center
On August 27, 2021, the AERPAW team hosted visitors from the Mitsubishi Electric Innovation Center (MELIC). The AERPAW team had a demo of the drone and SDR experiments in the Lake Wheeler Field Labs (see the photo below), while the MELIC representatives presented their views and recent efforts related to mid-range drone delivery.
AERPAW team has started working on the alpha testing of its portal, end-to-end experiment workflow, emulation environment, and field operations, in preparation for the Phase-1 general availability planned in late Fall, 2021.
A workshop paper by the AERPAW team that provides example experiments using Keysight RF sensors is accepted to appear in the ACM WiNTECH 2021. It studies passive sensing, detection, and tracking of UAVs using the Keysight RF sensors:
U. Bhattacherjee, E. Ozturk, O. Ozdemir, I. Guvenc, M. L. Sichitiu, and H. Dai, "Experimental Study if Outdoor UAV Localization and Tracking using Passive RF Sensing," in Proc. ACM WiNTECH Workshop, Oct. 2021. Available Online: https://arxiv.org/pdf/2108.07857.pdf
Another paper that provides some initial results on Facebook Terragraph radios is recently submitted by the AERPAW team to IEEE Radio Wireless Week. It considers propagation measurements at the 60 GHz band between two light pole and two rooftop locations:
K. Du, O. Mujumdar, O. Ozdemir, E. Ozturk, I. Guvenc, M. L. Sichitiu, H. Dai, and A. Bhuyan, "60 GHz Outdoor Propagation Measurements and Analysis Using Facebook Terragraph Radios", submitted to IEEE Radio Wireless Week, Las Vegas, NV, Jan. 2022. Available Online: https://arxiv.org/pdf/2109.00688.pdf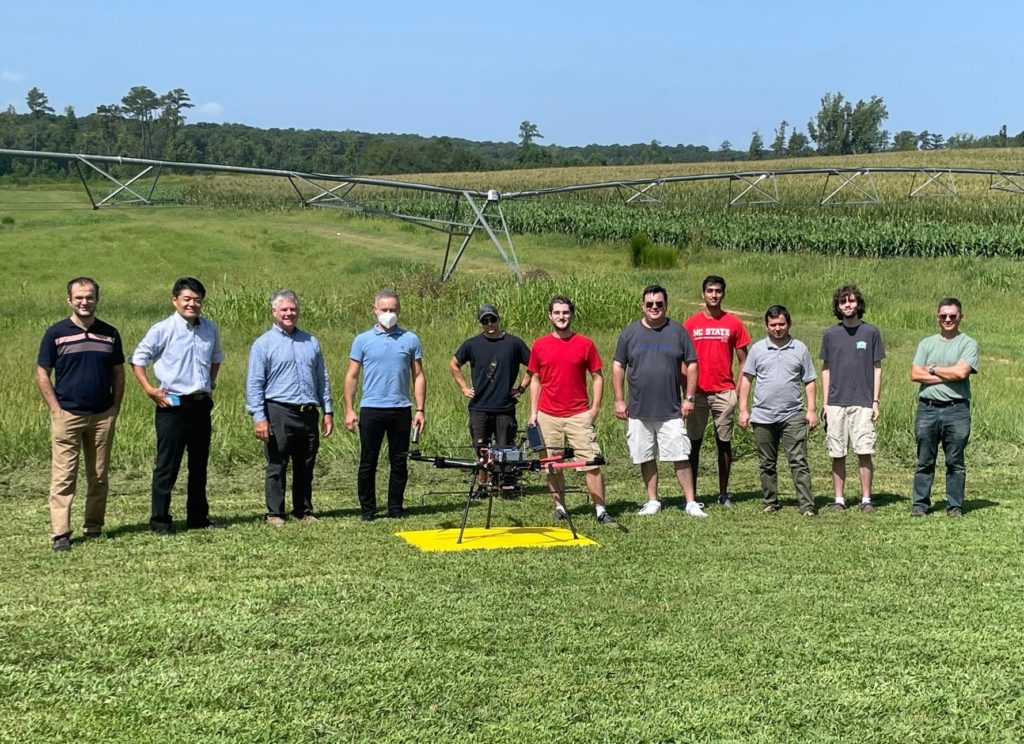 ---
June 2021
Testing Virtual Cloud Environment
In June 2021 we have progressed towards testing and finalizing our experiment workflow and the virtual cloud environment. The core and radio access network of the Ericsson 4G/5G system have been deployed at Lake Wheeler, and internal testing has started in coordination with Ericsson engineers. AERPAW platform was presented at various different venues in June 2021, including:
In June 2021 we have progressed towards testing and finalizing our experiment workflow and the virtual cloud environment. The core and radio access network of the Ericsson 4G/5G system have been deployed at Lake Wheeler, and internal testing has started in coordination with Ericsson engineers. AERPAW platform was presented at various different venues in June 2021, including:
---
May 2021
Ericsson Network Deployment
This month we installed Ericsson 4G/5G RAN equipments at the Lake Wheeler site (LWL) and the Core equipments at the AERPAW Network Control Center (NCC) at NCSU Centennial campus, and integrated with the AERPAW fiber backplane (backhaul) between the LWL site and AERPAW NCC. The RAN includes a) one 2-sector radio at 3.7GHz band with two external antennas, b) two radios in 1.7/2.1 GHz FDD band with builtin antennas that makes two overlaid sectors, all installed on the tower, and c) a 6U 10KW enclosure on the ground with a BBU and Router that connects to the backhaul (AERPAW backplane switch at the LWL). Similarly, the Core network at the AERPAW NCC includes a) an EPC Dell server, b) an App Dell server, and c) a router that connects to the AERPAW switch for the other end of the backhaul and the AERPAW Gateway for remote access.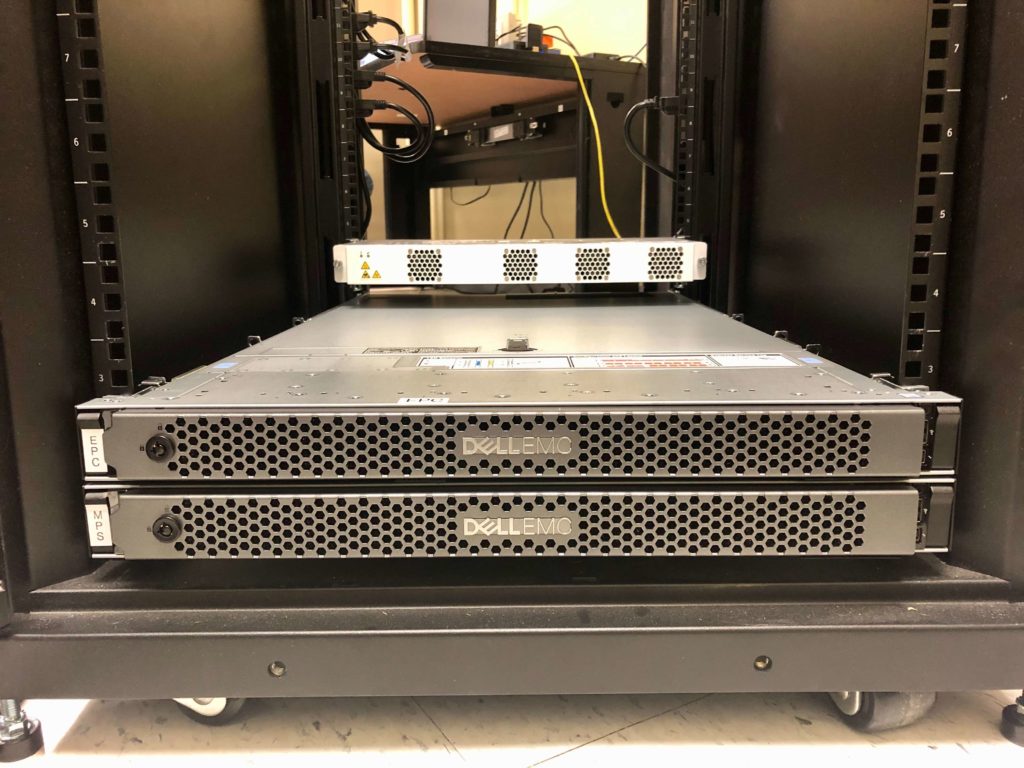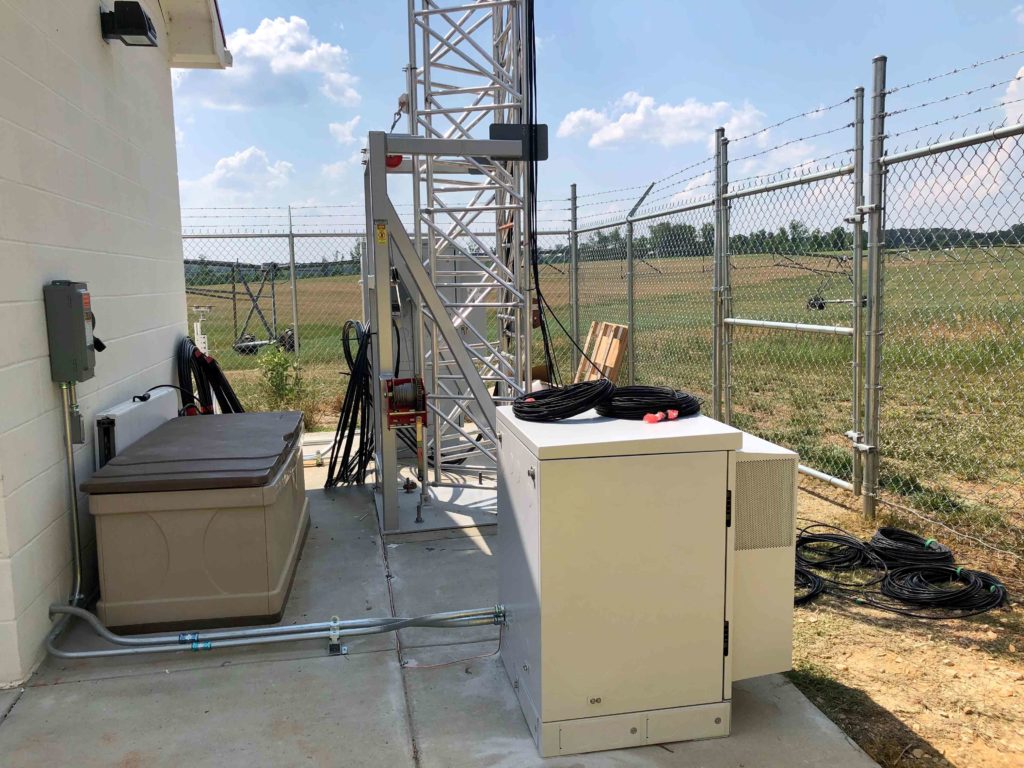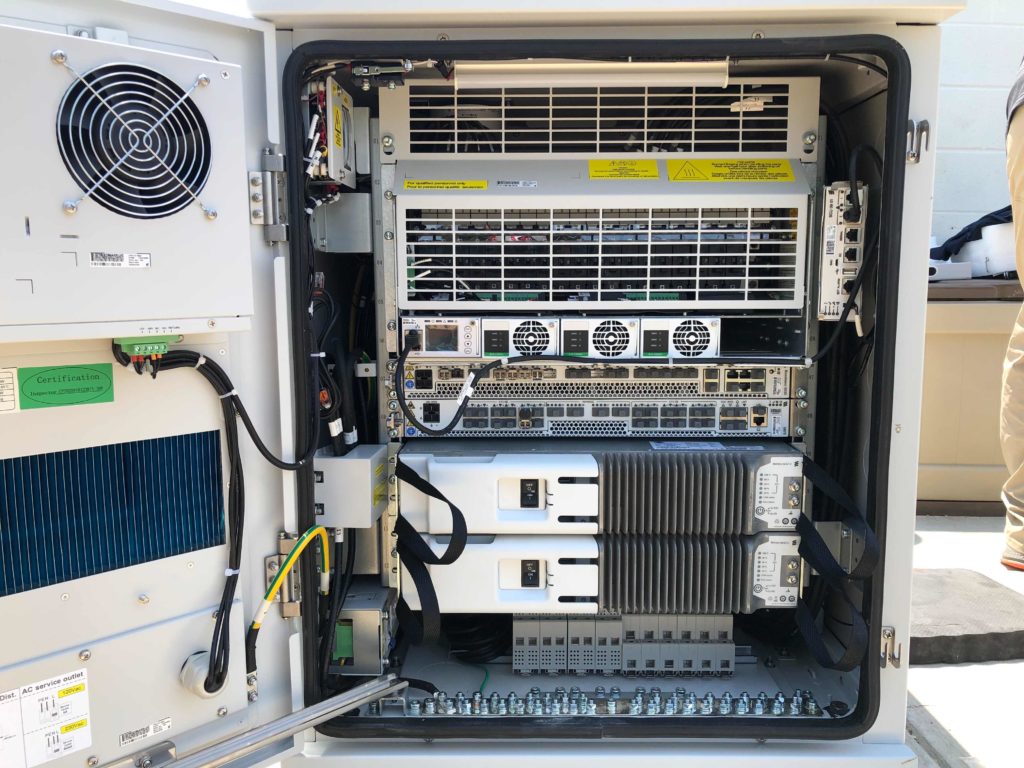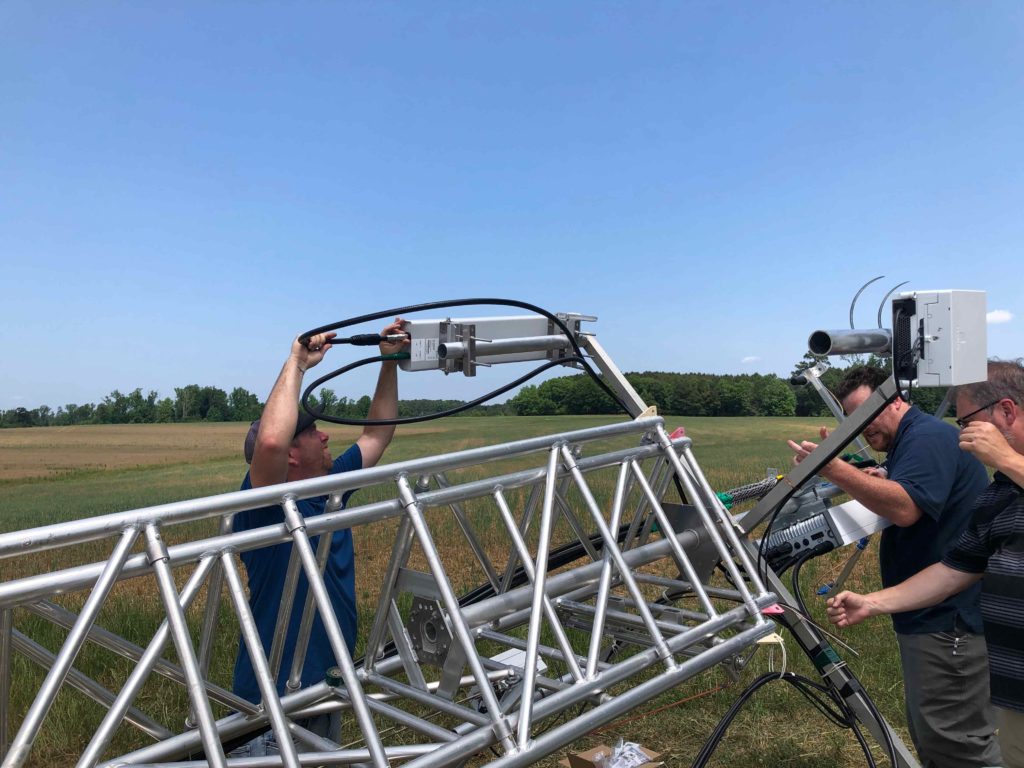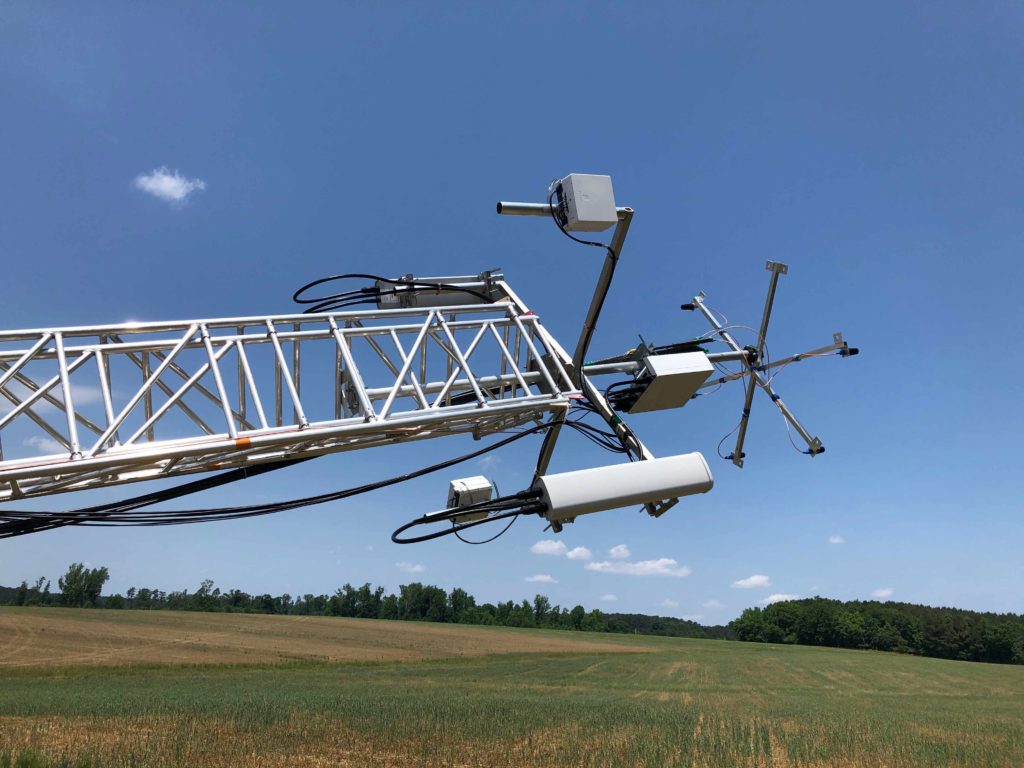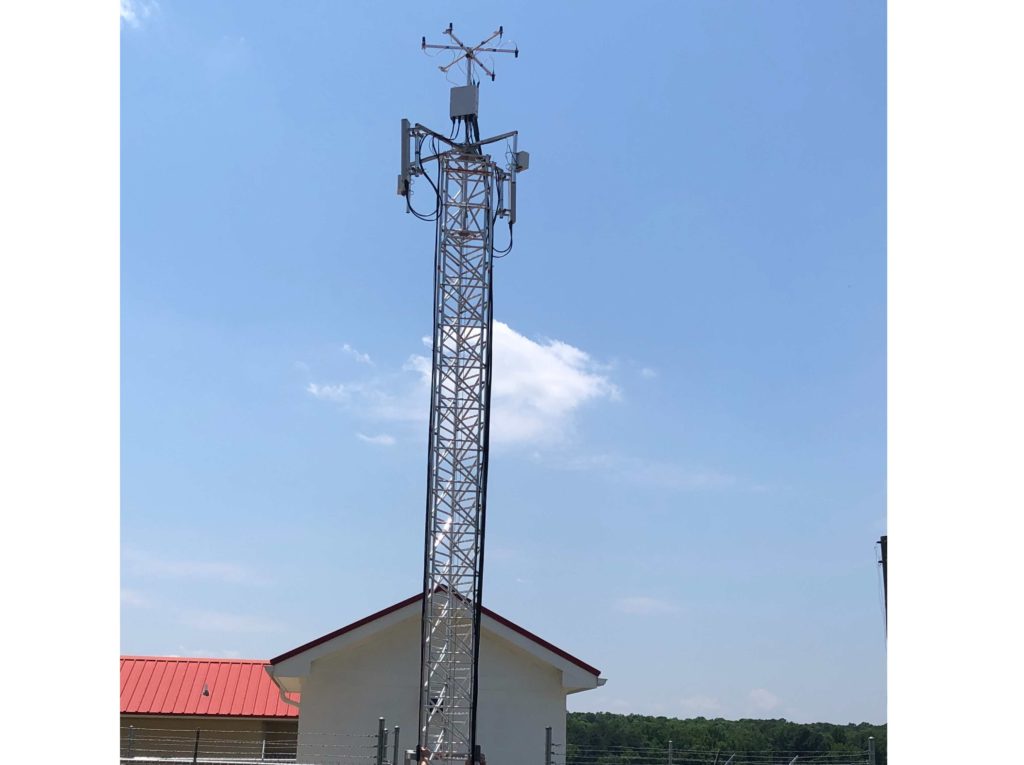 The current deployment configuration is two sectors of 5G NSA network (Option B) with two 5G TDD sectors in 3.7GHz band overlaid with two LTE FDD sectors in 1.7/2.1 GHz band. Alternatively, the network can be configured to all 4G sectors (Option A), i.e., two LTE TDD sectors in 3.7 GHz band and two LTE FDD sectors in 1.7/2.1 GHz band, or simultaneous 4G & 5G one sector (Option C) with one 4G LTE sector at 3.7GHz overlaid with a 5G NSA sector with 5G NR in 3.7 GHz band and an LTE in 1.7/2.1 GHz band. After the initial deployment of all the equipment, both RAN and Core, the remote access through AERPAW Gateway and the transport network backhaul connectivity between the Core and RAN through AERPAW backplane switches were established and the testing is in progress. After testing the transport network and the remote connectivity, the 5G wireless network testing with 5G devices will follow.
---
April 2021
Field Testing Continues
This month we continue to expand drone tests and check accuracy/reproducibility. The first figure shows a Large AERPAW Multicopter (LAM) with a portable node during the data collection phase for an IMU notch filter. Our current fleet of UAVs stretches their arms: three LAMs, one Small AERPAW Multicopter (SAM), and the DJI Phantom 4 we use for taking videos. All three LAMs (as well as the SAM and DJI) have been flight tested at this time. The below images also include the variable altitude 3D pattern superimposed over our initial square-off tests. The video for the second flight in Lake Wheeler is provided. This month we also completed the MAVLink Filter testing: first on the emulator, then rover, then SAM, and finally on the LAM. All tests passed successfully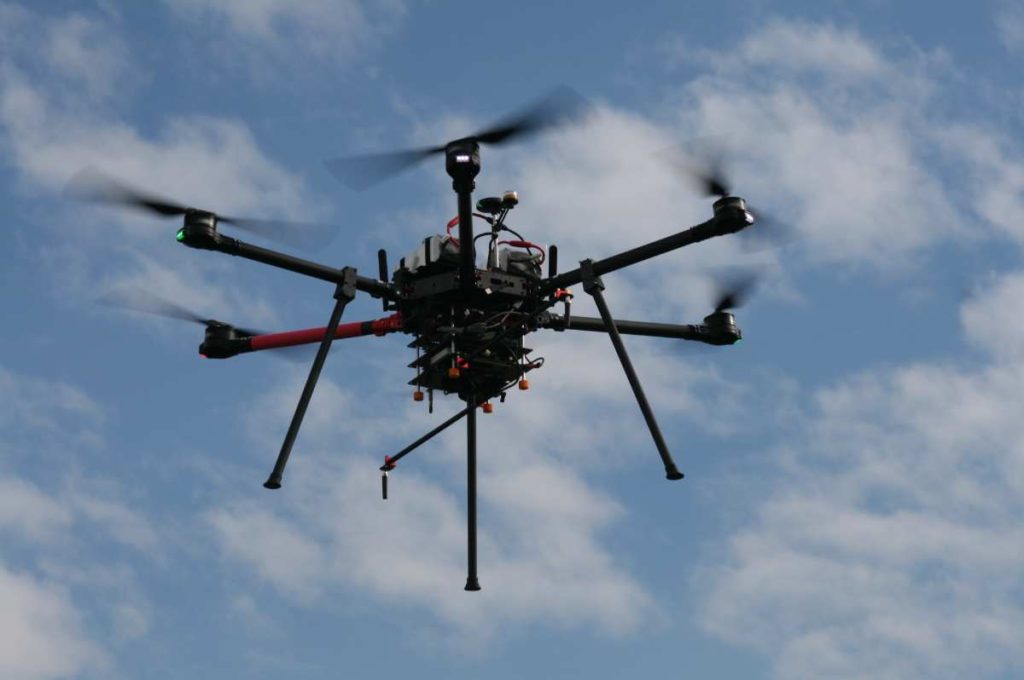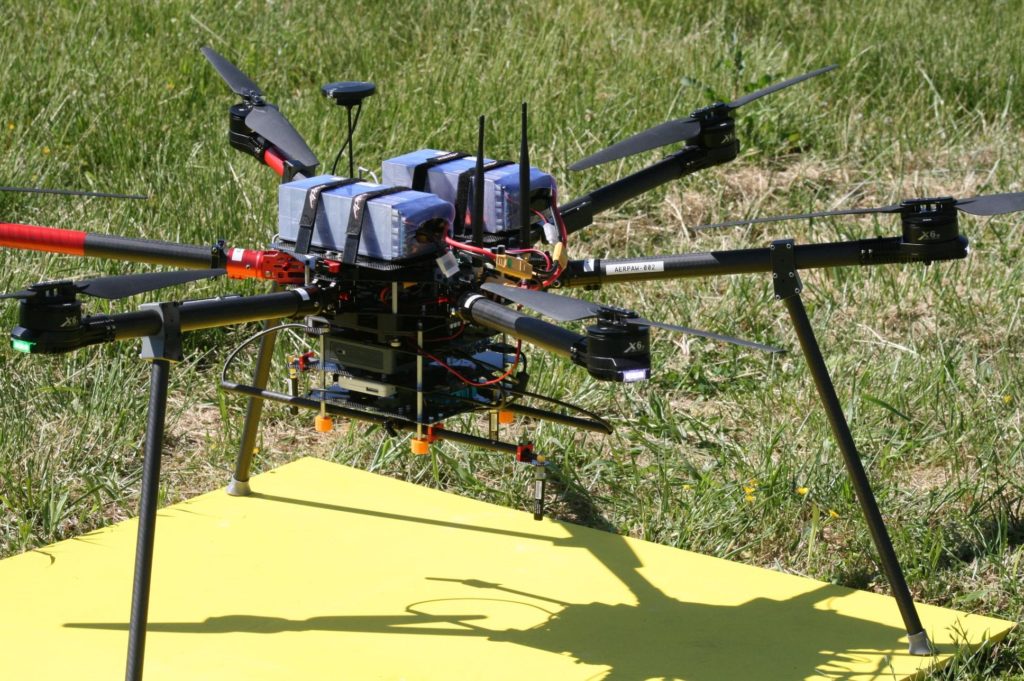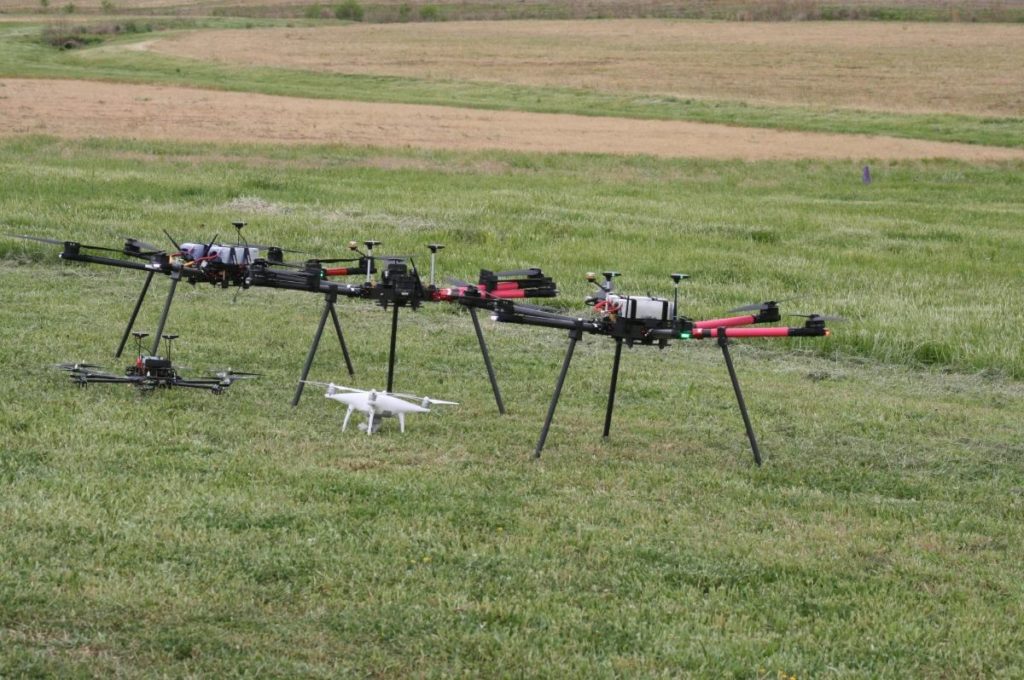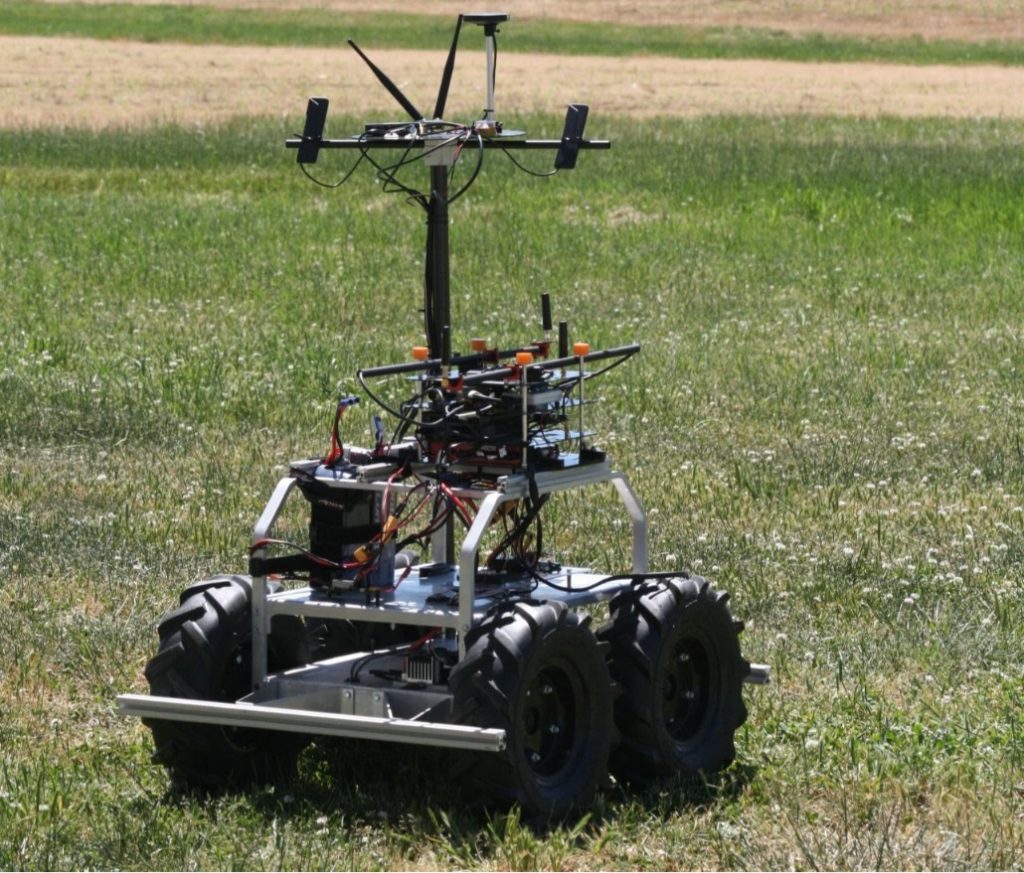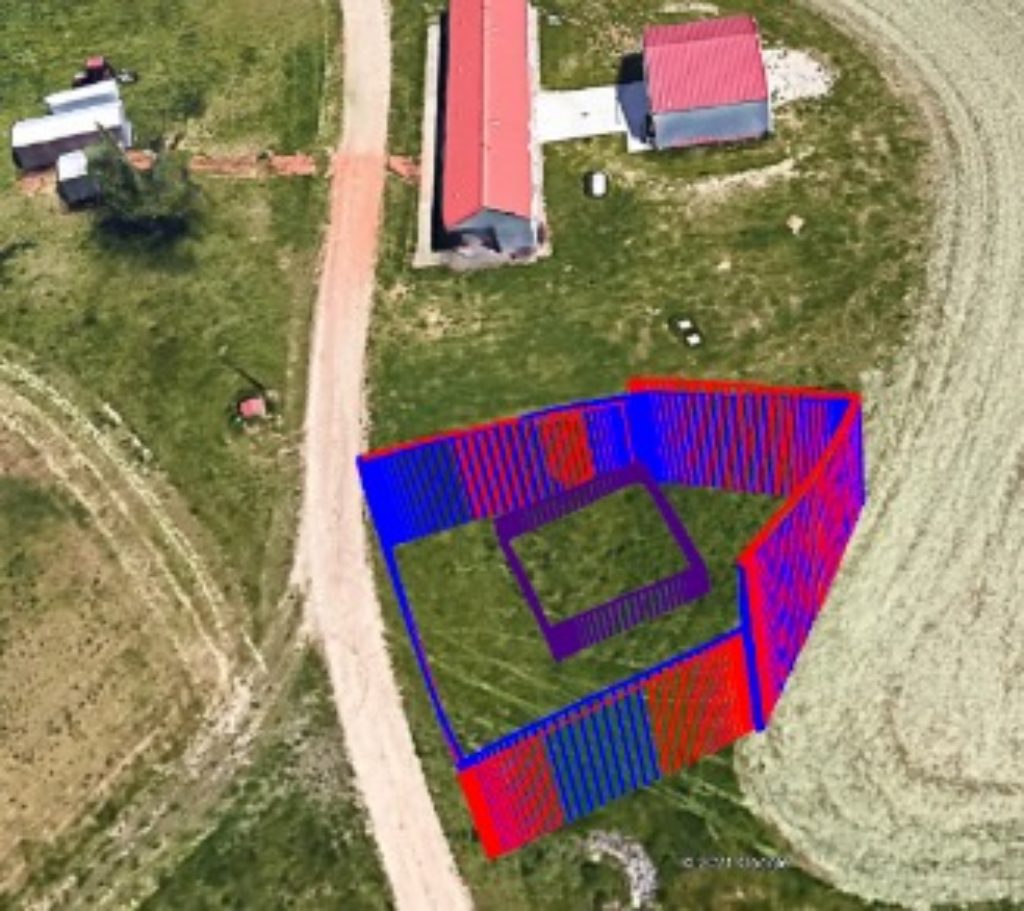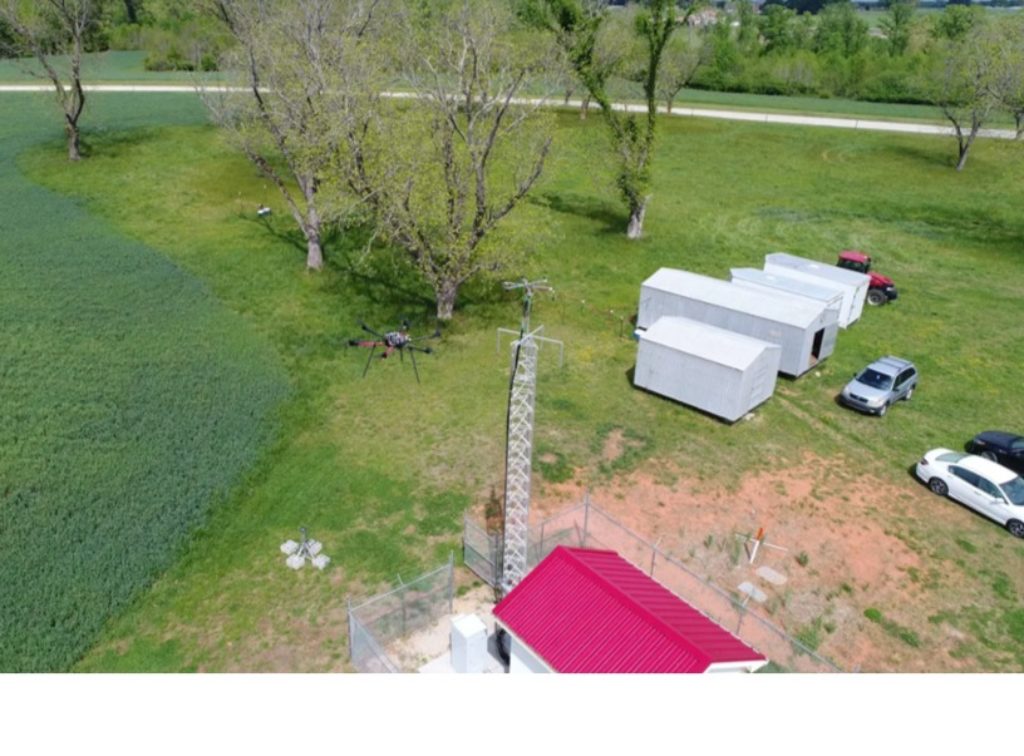 ---
March 2021
Phase 1 Vehicles: Field Testing
We recently tested our Phase 1 vehicles in the field. For this particular test, we used one rover, one Small AERPAW Multicopter (SAM), one portable node (PN), and two Large AERPAW Multicopters (LAMs). Our portable node includes an Intel NUC computer and a USRP B205mini. The SAM is used to test the software on a lower-stakes vehicle before testing it on the LAM. The tests included manual tests as well as fully autonomous tests where the rover, SAM and LAM were fully under the control of the PN: the safety pilots were present for "just in case". The results (shown in the videos) show good control both for the rover and for the LAM. One of the figures shows the consistency of the trajectory of two consecutive runs of the LAM. The rovers, the SAM, and the LAM were commanded to traverse a square with a side of 10m, each command being relative to the previous one (takeoff, 10m north, 10m west, 10m south, 10m east, land). Although this is a simple mission, the test runs through all the relevant instructions we plan to support on the testbed in Phase 1.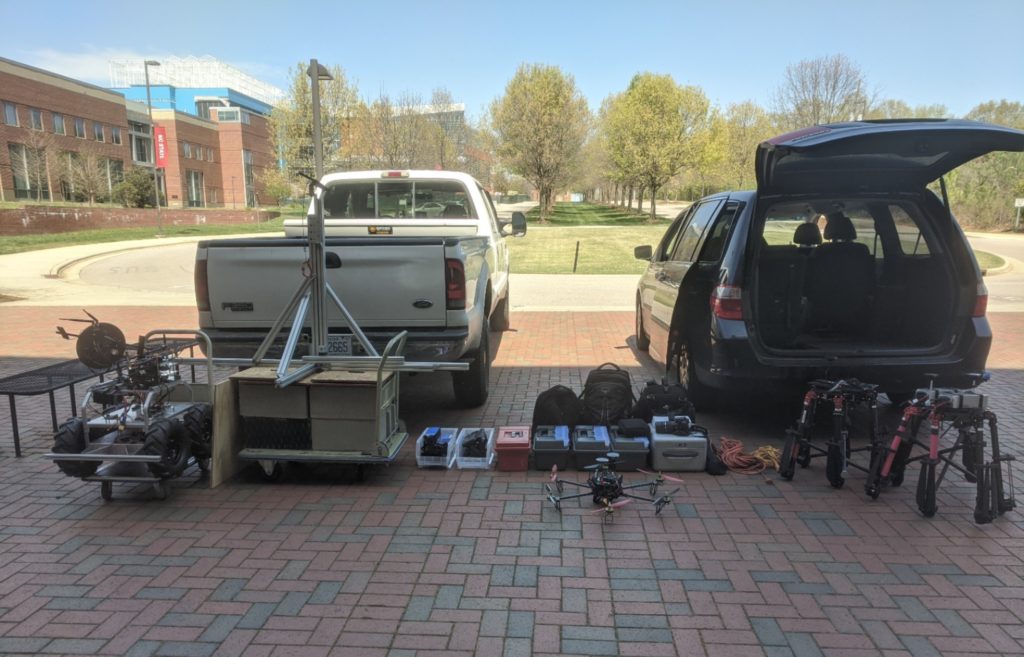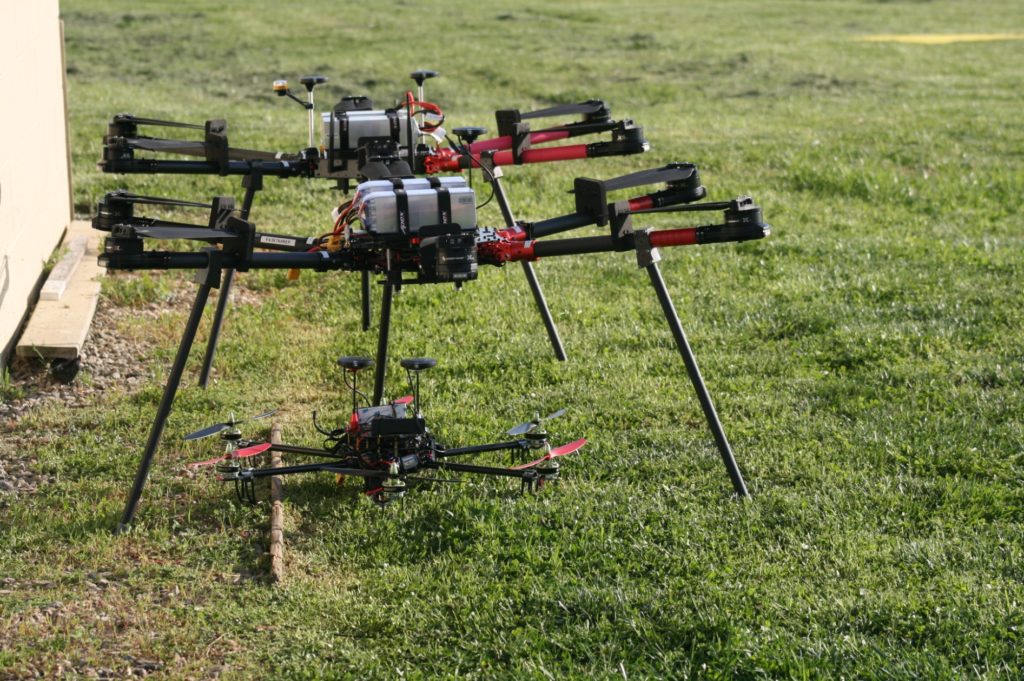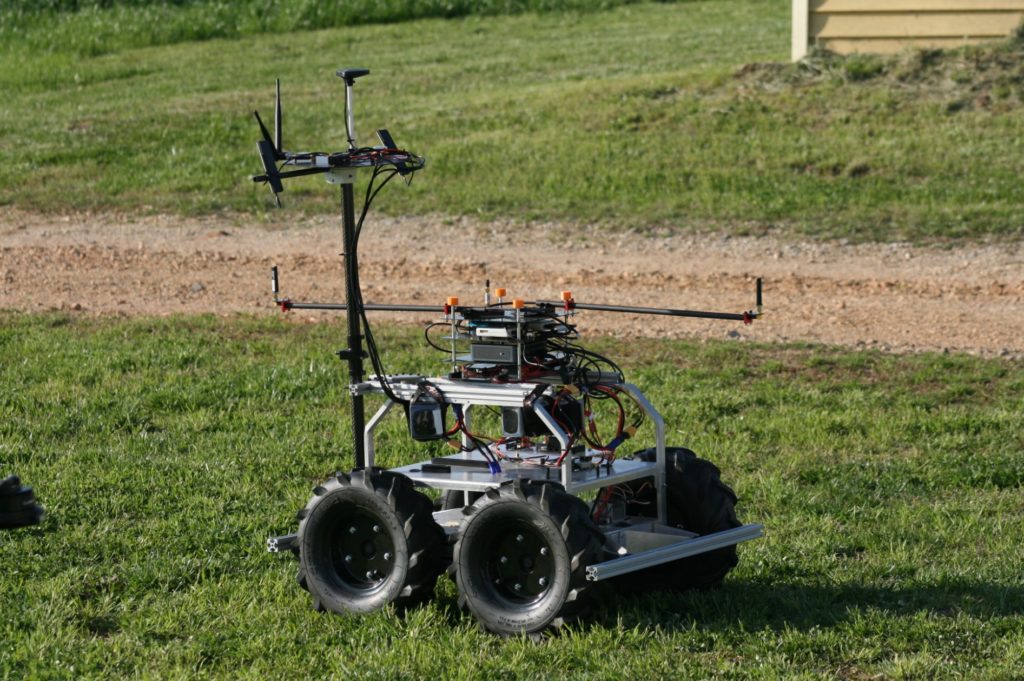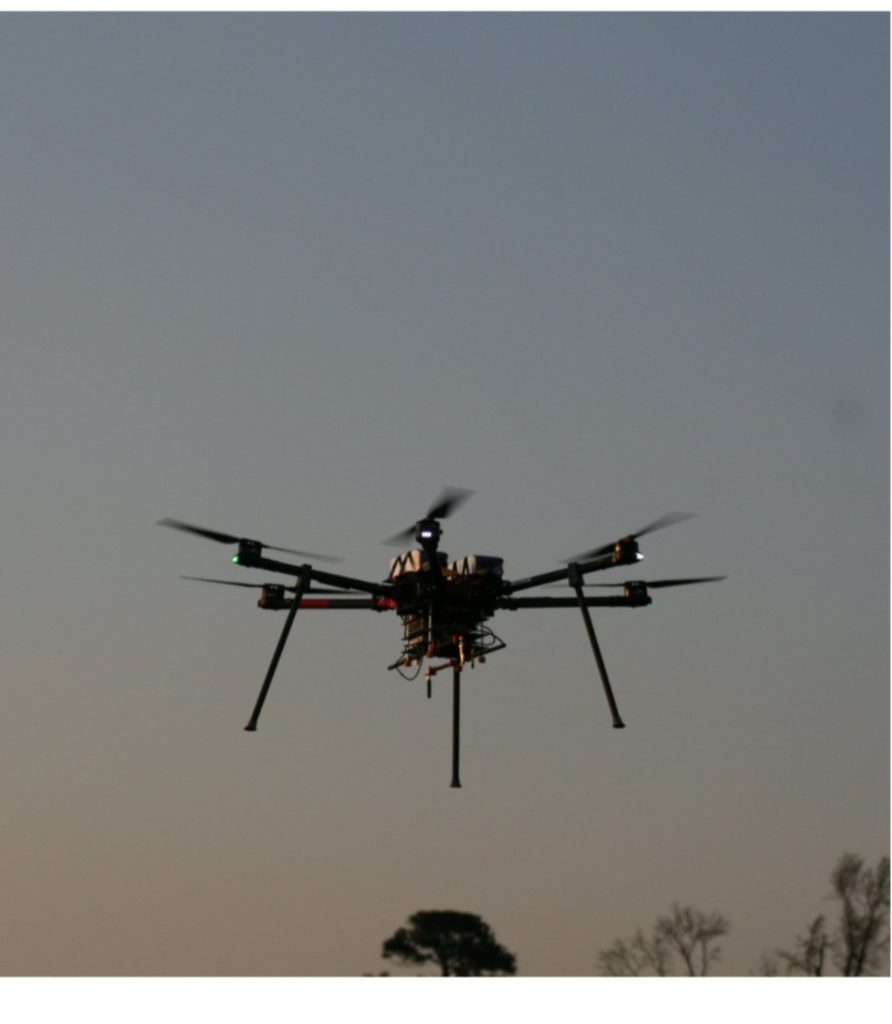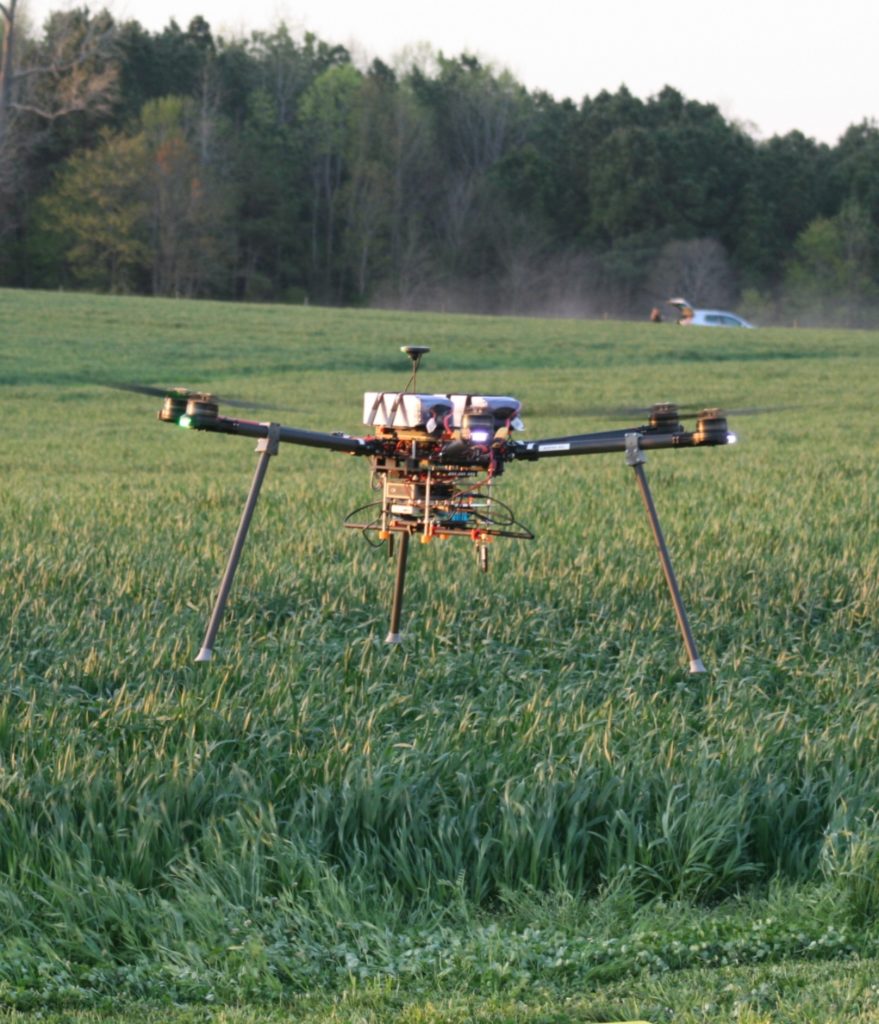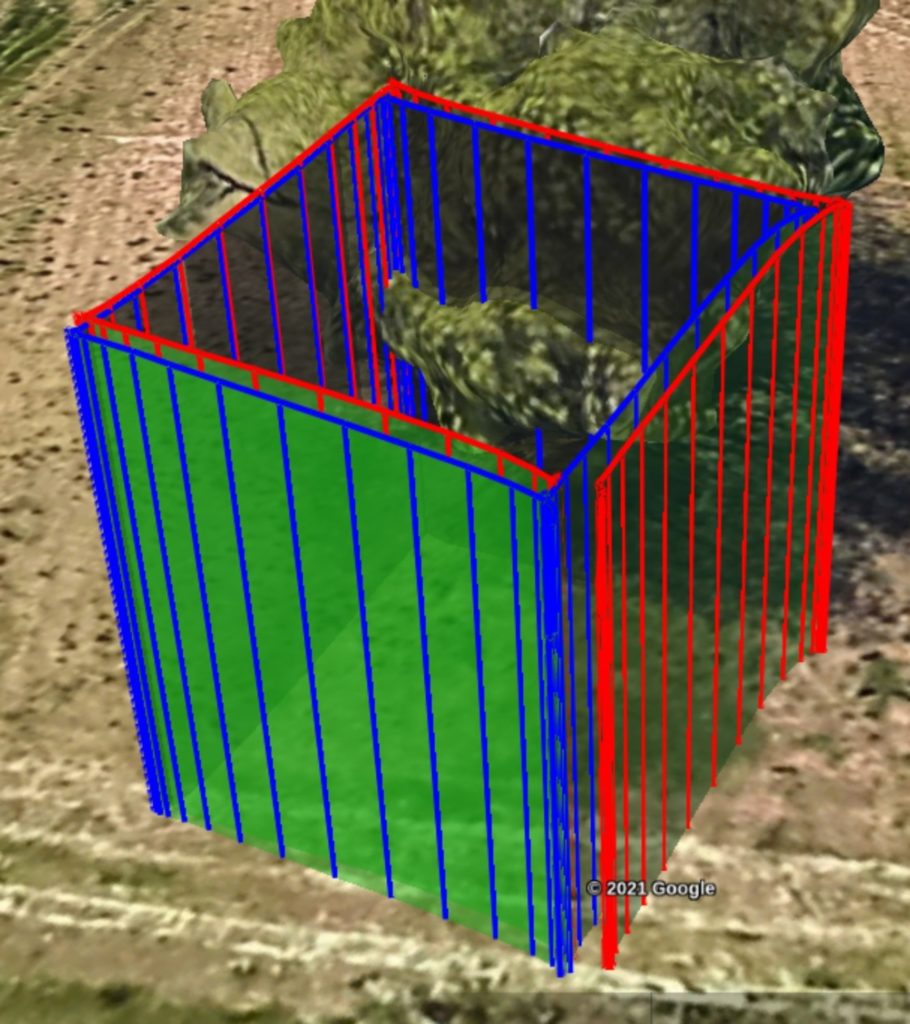 ---
February 2021
Drone Classification Experiments by University of Louisville
In Fall 2020, the AERPAW team hosted researchers from the University of Louisville (UoL) to carry out experiments in the Lake Wheeler site related to drone detection and classification. Olusiji Medaiyese from UoL visited NC State University and worked with AERPAW pilots to collect data from various different drones and other RF sources using a high sampling oscilloscope from Keysight that was made available to them for their experiments. After post-processing the data collected from the Lake Wheeler site, Medaiyese submitted the following journal:
Olusiji Medaiyese, Martins Ezuma, Adrian P. Lauf, and Ismail Guvenc, "Wavelet Transform Analytics for RF-Based UAV Detection and Identification System Using Machine Learning", submitted to Elsevier Journal of Pervasive and Mobile Computing, Feb. 2021 [Paper].
The UoL team will make the collected data publicly available in the future and cited it in their accepted journal paper. An example drone dataset that was posted by the AERPAW team in the past is available at [Dataset].
This experiment fits under bring your own device (BYOD) type AERPAW experiments. AERPAW is expected to be "generally available" in the coming months and will be broadly accessible to experimenters with programmable drones and programmable wireless equipment. On a case-by-case basis, the AERPAW team can also work with the interested researchers on BYOD-type experiments.
Drone and Rover Experiments
We have been testing our AERPAW UAV and rover in the Lake Wheeler site, both of which have the same interface for controlling their trajectory. Below you can find a video from our recent testing, where the rover is controlled in manual control (the pilot has control), automatic control (autopilot has control), as well as autonomous control (the portable node has control). All tests went well and we are getting ready for supporting external experiments with AERPAW UAVs and rovers in the coming months.
---
January 2021
AERPAW team worked on the manual PID tuning process of the large AERPAW UAV (the "Fat Bird"). The manual control was tightened for better responsiveness as well as reducing the limits on the maximum roll and pitch as the default was too aggressive for a drone of this size. Subsequently, the team took it out for a spin to get a feel of the result and it was deemed as flying well. The UAV breached the geofence in the end, and initiated (and completed) a return to launch, landing where it took off from.
Ground Control and Portable Node Prototype
The below figures show our current ground base station set up with a table that includes two laptops (one for setting and monitoring the UAV, the other for controlling and monitoring the companion computer). Internet access is currently available as one of the two laptops has a cellular modem and creates a WiFi hotspot. Sun glare is a perennial problem.
The portable node prototype was manually put together after a packaging design process. RF testing of all the components has been carried out (experimental SDR, monitoring SDR, backhaul cellular modem).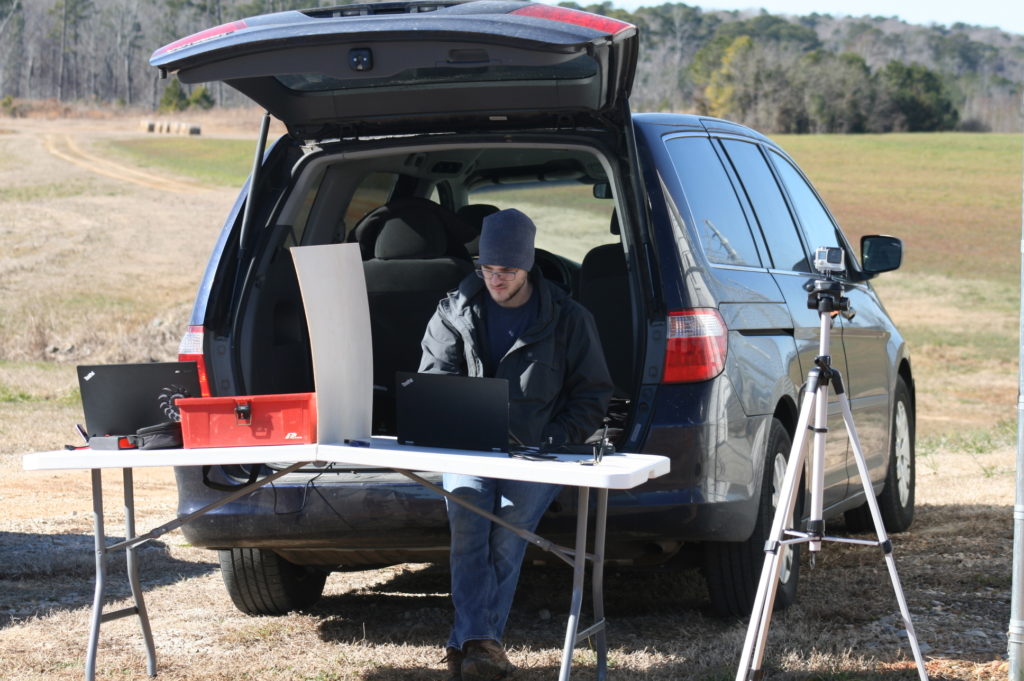 AERPAW Presentations
AERPAW team recently carried out the following presentations:
M. U. Uddin Chowdhury, C. K. Anjinappa, I. Guvenc, M. L. Sichitiu, O. Ozdemir, U. Bhattacherjee, R. Dutta, V. Marojevic, and B. Floyd, "A Taxonomy and Survey on Experimentation Scenarios for Aerial Advanced Wireless Testbed Platforms", in Proc. IEEE Aerospace Conf., Mar. 2021. [Website][Slides]
I. Guvenc, "AERPAW: Aerial Experimentation and Research Platform on Advanced Wireless", IEEE Internet of Things Vertical and Topical Summit, Jan. 14, 2021. [Website][Slides]
A list of AERPAW's publications and academic outreach can be found on our Wiki.
---
December 2020
During Dec. 2020, six Terragraph radios from Facebook have been installed at CC8, CC10, CC11, and CC12, forming a daisy chain connectivity. They are being tested and expected to be available for as-is experimentation in the coming months. We have also finished installing a Keysight RF sensor on CC2 and successfully performed initial testing. We are expecting to provide remote connectivity to it during the coming months.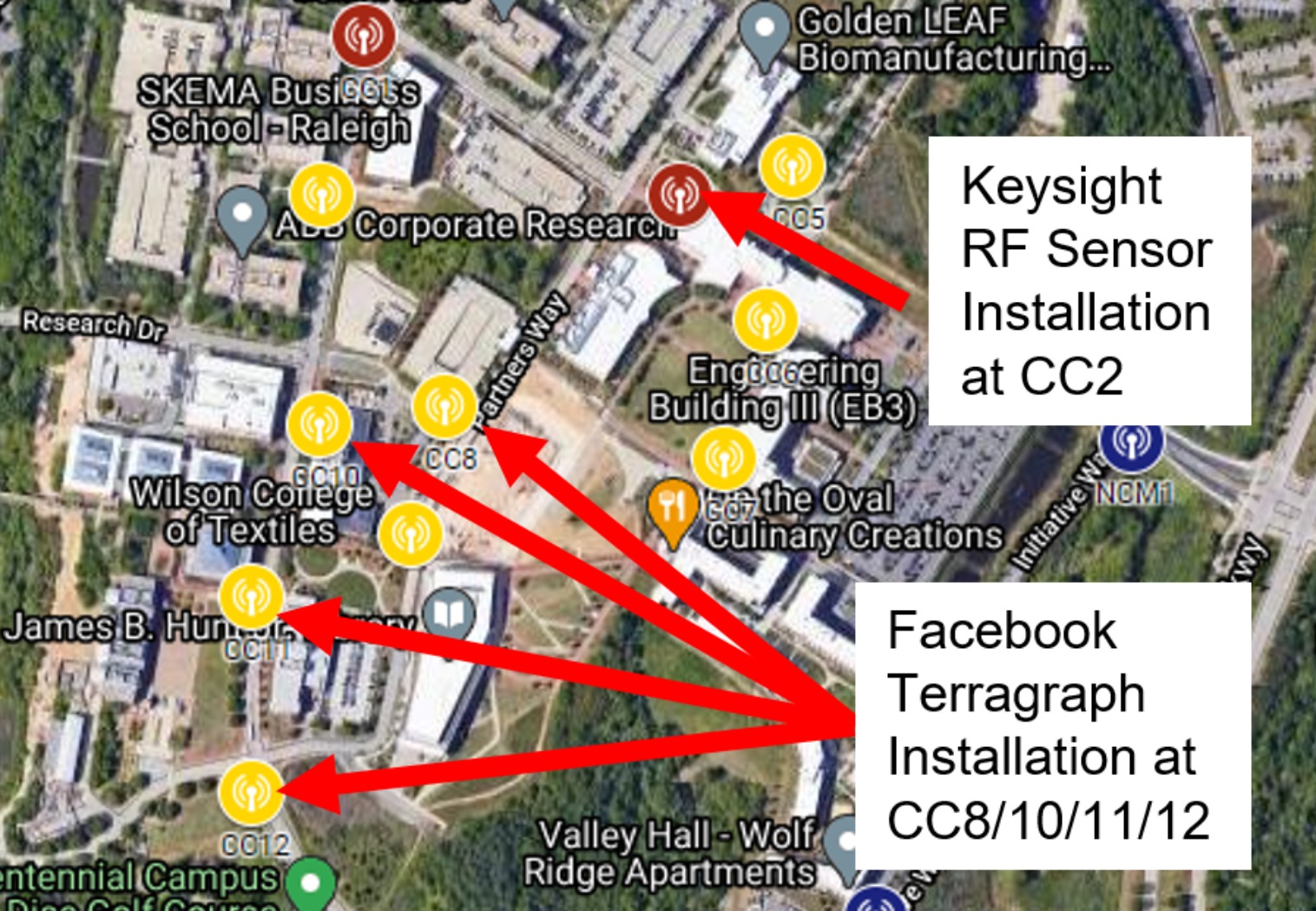 ---
November 2020
AERPAW purpose-built light pole getting installed in the Centennial Campus
---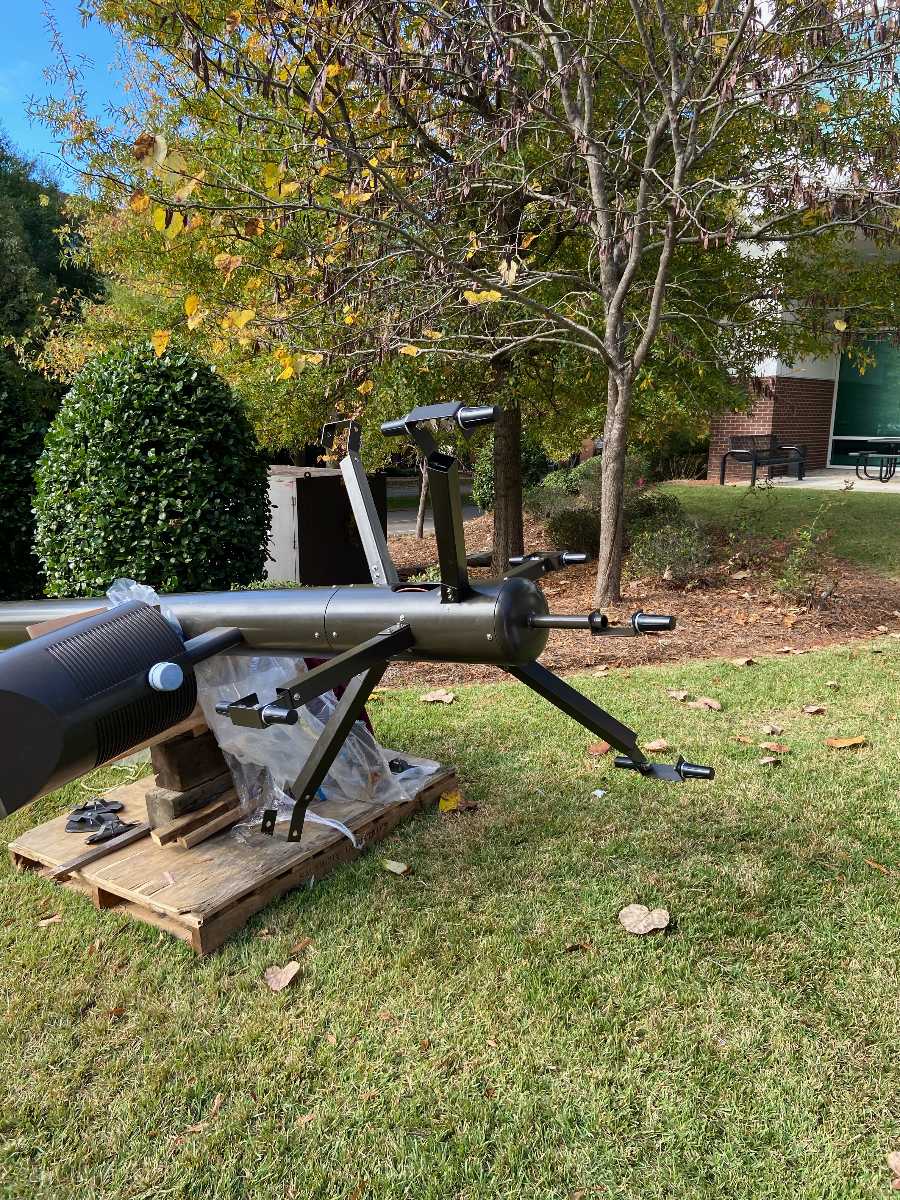 ---
October 2020
The first flight of a drone for Lake Wheeler Road Field Laboratories (LWRFL)
July 2020
AERPAW LWRFL Construction: Over the last few months, in a previously empty field, a hut and a tower went up, to house respectively the site distribution facility and the first radio node in the Lake Wheeler Road Field Laboratories for AERPAW. A few pictures from various points in the process are included below: the last one shows a radar drone detection experiment in progress.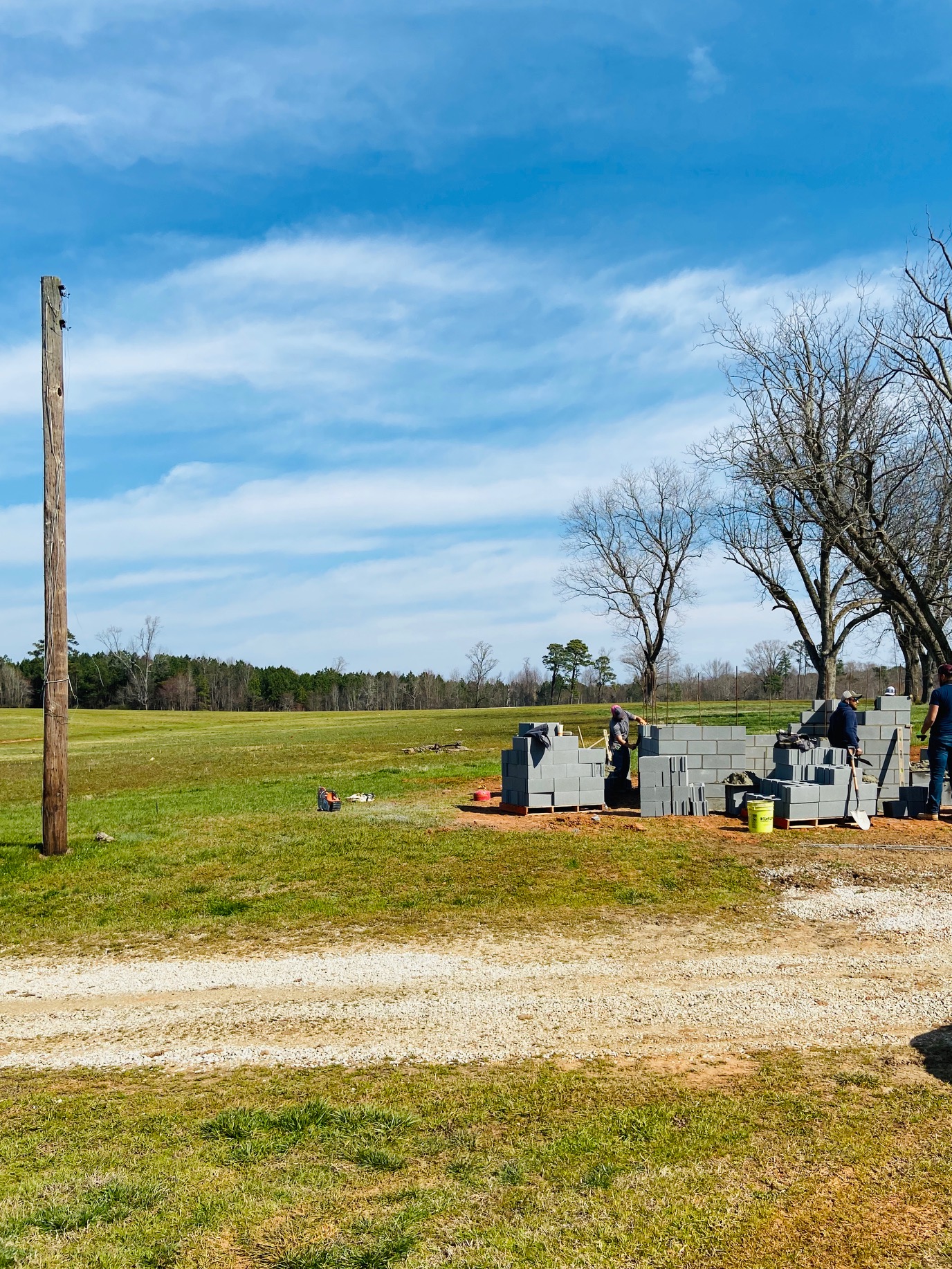 ---
March 2020