AERPAW Fall 2021 Event and NRDZ Supplement
NSF AERPAW Fall 2021 Event will be held on November 9-10 at the Main Campus of North Carolina State University, Raleigh, NC. The event schedule includes a tour of the AERPAW experimentation areas, drone flight and software-defined radio experiment demo (weather conditions permitting), three-panel sessions that will discuss how AERPAW can be used for advanced wireless and drone experimentation, hands-on training sessions, poster sessions, and a 6GNC meeting. The event agenda, registration information, and logistics can be found at https://aerpaw.org/aerpaw-fall-2021-event/.
AERPAW team has received an NSF supplement to work on research and experimentation related to the future design of National Radio Dynamic Zones (NRDZs). A concept paper with views and initial results on NRDZs is to appear in IEEE ICC 2022 Workshop Proceedings.
Sung Joon Maeng, Ismail Guvenc, Mihail L. Sichitiu, Brian Floyd, Rudra Dutta, Thomas Zajkowski, Ozgur Ozdemir, and Magreth Mushi, "National Radio Dynamic Zone Concept with Autonomous Aerial and Ground Spectrum Sensors", submitted to IEEE ICC Workshops, 2022.
Some preliminary results from the paper are included below. The paper will be posted to arxiv.org for early access.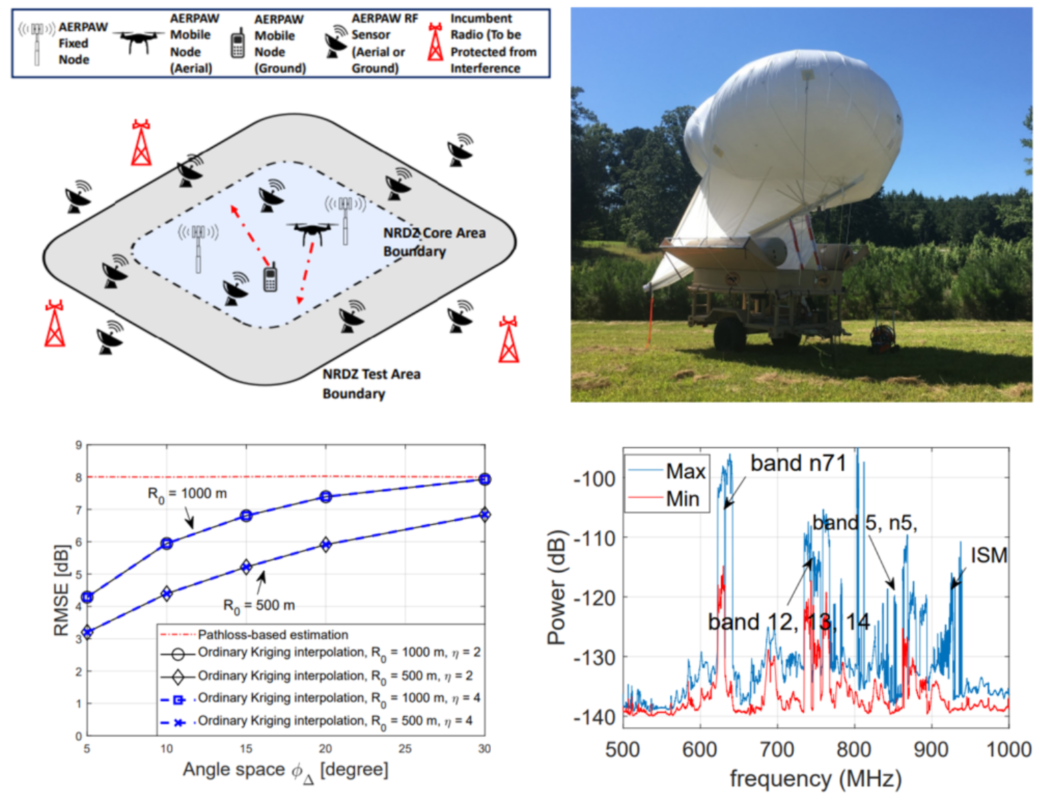 AERPAW project team has continued with alpha and beta testing of AERPAW Phase-1 features and is aiming to declare general availability with the initial platform features in November 2021.